Omega Juice Cube now available in RED!
26 April 2019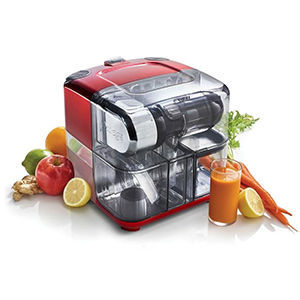 The Omega Juice Cube is now available in a stunning new red colour as well as silver. The Omega juice cube is brilliant for juicing greens, vegetables and hard fruit. Being multifunctional, you can also use it to make frozen fruit sorbets, nut butters and baby food. The Juice cube is popular for its ground breaking square footprint and neat cube form. With compartments for all accessories, you will know exactly where to find your accessories when you need them.
Try this delicious strawberry sorbet using the Omega Juice Cube!
Ingredients:
1 cup frozen strawberries per person
Directions:
Assemble your Omega juice cube juicer using the blank strainer.
Thaw the frozen strawberries for about 10 minutes.
Slowly add the frozen strawberries into the chute and serve immediately.
Click here to buy an Omega juice cube today with free delivery throughout SA!